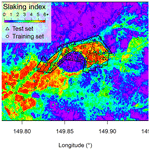 1

School of Life and Environmental Sciences & Sydney Institute of Agriculture, Faculty of Science, The University of Sydney, New South Wales, Australia

2

École Nationale Supérieure d'Agronomie et des Industries Alimentaires (ENSAIA), University of Lorraine, Nancy, France
Correspondence: Edward J. Jones (edward.jones@sydney.edu.au)
Received: 12 May 2020 – Discussion started: 16 Jul 2020 – Revised: 19 Nov 2020 – Accepted: 24 Nov 2020 – Published: 22 Jan 2021
Soil aggregate stability is a useful indicator of soil physical health and can be used to monitor condition through time. A novel method of quantifying soil aggregate stability, based on the relative increase in the footprint area of aggregates as they disintegrate when immersed in water, has been developed and can be performed using a smartphone application – SLAKES. In this study the SLAKES application was used to obtain slaking index (SI) values of topsoil samples (0 to 10 cm) at 158 sites to assess aggregate stability in a mixed agricultural landscape. A large range in SI values of 0 to 7.3 was observed. Soil properties and land use were found to be correlated with observed SI values. Soils with clay content >25 % and cation exchange capacity (CEC) : clay ratio >0.5 had the highest observed SI values. Variation in SI for these soils was driven by organic carbon (OC) content which fit a segmented exponential decay function. An OC threshold of 1.1 % was observed, below which the most extreme SI values were observed. Soils under dryland and irrigated cropping had lower OC content and higher observed SI values compared to soils under perennial cover. These results suggest that farm managers can mitigate the effects of extreme slaking by implementing management practices to increase OC content, such as minimum tillage or cover cropping. A regression-kriging method utilising a Cubist model with a suite of spatial covariates was used to map SI across the study area. Accurate predictions were produced with leave-one-out cross-validation, giving a Lin's concordance correlation coefficient (LCCC) of 0.85 and a root-mean-square error (RMSE) of 1.1. Similar validation metrics were observed in an independent test set of samples consisting of 50 observations (LCCC = 0.82; RMSE = 1.1). The potential impact of implementing management practices that promote soil OC sequestration on SI values in the study area was explored by simulating how a 0.5 and 1.0 % increase in OC would impact SI values at observation points and then mapping this across the study area. Overall, the maps produced in this study have the potential to guide management decisions by identifying areas that currently experience extreme slaking and highlighting areas that are expected to have a significant reduction in slaking by increasing OC content.
Objective and quantitative metrics are required to assess soil health and monitor soil condition through time. Development of simple accessible metrics to assess soil health will facilitate increased spatial and temporal sampling density, and will encourage farmers, consultants, and even citizens to participate in soil health assessment. Aggregate stability is an important indicator of physical condition that quantifies a soil's resistance to slaking and dispersion. Slaking is the disintegration of soil aggregates as a result of rapid wetting (Yoder, 1936; Oades and Waters, 1991). Slaking occurs when soil aggregates are unable to withstand the stress induced by water uptake derived from two main causes: swelling of clay minerals as water is adsorbed into the interstitial space and internal pressure caused by compression of entrapped air bubbles as capillary action draws water into the small pores between soil particles (Emerson, 1964). Most cultivated soils in Australia are prone to some degree of slaking. The degree of slaking determines if the process produces a favourable or unfavourable environment for cultivation and plant growth, and it has implications for soil conservation. A small degree of slaking can be beneficial and is associated with self-mulching – an ability to recover from disturbance by reforming small (<5 mm) aggregates at the soil surface following wetting–drying cycles (Grant and Blackmore, 1991) – and mellowing: a partial disintegration of soil aggregates on wetting that results in increased friability (Barzegar et al., 1996). Slaking produces detrimental effects when aggregates disintegrate further into microaggregates (∅ <0.25 mm). Detached microaggregates migrate and settle into pores, reducing pore volume, decreasing infiltration and percolation rates, and leading to increased surface run-off (Rengasamy et al., 1984). Erosion susceptibility is exacerbated as greater run-off volumes increase erosive power, and the slaked aggregates also provide suitably sized particles for translocation. Ultimately the soil has a lowered capacity to support plant growth as plant-available water and soil–atmosphere gas exchange are both reduced. In severe cases, crusting or hard setting occurs when slaked and dispersed aggregates coalesce and set hard on drying (Mullins et al., 1990). Soil strength increases as the soil dries, producing difficulty in cultivation until the soil is rewetted, and shoot emergence and root growth may be restricted (Mullins et al., 1990).
The susceptibility of a soil aggregate to slake is related to texture, mineral composition, and organic matter content (Mullins et al., 1990). Soils with high clay content, especially those containing smectite or vermiculite minerals, are more likely to slake as they expand on wetting and also contain a greater number of small diameter pores into which capillary action will draw water and compress entrapped air bubbles (Emerson, 1964). High organic matter content improves soil structure by binding soil particles into stable aggregates and reducing susceptibility to slaking (Chenu et al., 2000). Techniques that increase soil organic matter – such as cover cropping, reduced tillage, and application of organic amendments – may reduce susceptibility to slaking. Agricultural management practices that increase susceptibility to slaking include conventional tillage methods that destroy soil structure and accelerate organic matter decomposition, burning or removal of crop residues, and the application of pesticides and other chemicals that are harmful to soil biota and lead to disruption of organic matter cycling and reduced aggregation. The detrimental effects of soil slaking are more pronounced in areas with clear wetting–drying cycles, such as temperate Australia. Collis-George and Lal (1971) found that the initial water content of soil affects the degree of slaking upon rewetting, and soils of low initial water content are more prone to rapid and explosive slaking.
Slaking and dispersion are quantified through aggregate stability tests that observe changes in soil aggregate morphology following immersion in water in an attempt to predict soil behaviour in the field. Emerson (1967) developed a test to classify samples into eight classes based on the degree of slaking, swelling, and dispersion observed when air-dried soil aggregates are immersed in distilled water. The Emerson aggregate test was extended by including a supplementary analysis whereby soil samples were wetted and moulded into cubes before immersion in the distilled water as a means to simulate the shear forces associated with raindrop impact and tillage on bare soil (Loveday and Pyle, 1973; Emerson, 1991). Field et al. (1997) modified these tests further to include observations of slaking and dispersion at both 10 min and 2 h post-submersion in the "aggregate stability in water" (ASWAT) test. This greatly decreased the time requirement from 20+ h required for previous tests; however, interpretation of the degree of slaking for the ASWAT test remained moderately subjective, and scores were produced on an ordinal scale from 0 to 4, which limits statistical applications. Established methods of quantifying stability of aggregates subject to wet sieving or simulated rainfall are also time-consuming and require specialist equipment (Yoder, 1936; Schindelbeck et al., 2016).
A new method has been developed to calculate degree of slaking using a time series of digital photographs to quantify the increase of the footprint area of aggregates as they disintegrate when immersed in distilled water (Fajardo et al., 2016). This method has been incorporated into a smartphone application, SLAKES, that is able to quantify aggregate stability in only 10 min (Fajardo and McBratney, 2019). The reduced assessment time was achieved as the authors found that the 2 h reading can be reliably estimated from change in footprint area over the 10 min analysis period. The SLAKES application requires no specialty equipment, and the automated nature of the application allows aggregate stability to be quantified with minimal training. These advances make the analysis more readily available to farm managers and citizen scientists. The method calculates an objective and continuous slaking index (SI), which reduces operator error and facilitates elucidation of contributing factors of observed slaking. For example, Flynn et al. (2020) investigated aggregate stability of Vertisols under different agricultural management strategies and found that SI was significantly more sensitive at distinguishing the perennial, no-till, and conventional tillage management treatments compared to the Cornell wet aggregate stability test (Schindelbeck et al., 2016).
Few studies have mapped aspects of soil aggregate stability using digital soil mapping (DSM) techniques. Odeh and Onus (2008) used regression kriging and indicator kriging to model the electrochemical stability index (ESI) across an irrigated cropping region of western NSW, Australia. This resulted in a map of "risk zones" that were susceptible to dispersion and that could be prioritised for increased monitoring and tactical management to abate immediate and future detrimental impacts on crop production. A study by Annabi et al. (2017) also utilised regression kriging to produce accurate predictions of soil aggregate stability of an agricultural district in Tunisia. Fine-resolution maps of soil aggregate stability across fields and farms have considerable potential to aid farm managers in decision-making processes. Such maps could guide farm managers to implement soil amelioration practices, such as tactical application of gypsum, or change in management practices, such as minimum tillage or use of cover crops. Tools that make aggregate stability quantification accessible, such as the SLAKES application, may facilitate the production of such maps.
The current study investigated the use of the SLAKES application and DSM techniques to assess variation in SI across a landscape with different agricultural and natural land uses. The contribution of both soil attributes and land management to slaking was investigated, and the potential impact of increasing soil organic carbon (OC) levels on slaking was explored.
3.1

 Investigating slaking index variation
3.1.1

 Slaking index and soil properties

A large range in SI was observed for the samples analysed in this study (Table 3). A minimum SI of 0 was observed for nine samples, meaning that no slaking or swelling occurred and the footprint area of these soil aggregates did not increase. A maximum SI of 7.3 was observed, meaning that the average footprint area for these aggregates is projected to increase in size by 730 %. This indicates an extreme level of aggregate disintegration, although it remains below the maximum theoretical SI of 7.8 suggested by Fajardo et al. (2016). Organic C had an observed range of 0.33 to 2.97 % and a median value of 0.88 %, demonstrating that many of the sampled locations had low levels of OC. Other measured soil properties ranged widely, demonstrating the diversity of soils sampled; for example clay ranged from 2.5 to 60.2 %, and pH ranged from 4.8 to 9.2.

Slaking index was positively correlated with clay content (r = 0.84), pH (r = 0.70), electrical conductivity (r = 0.44), CEC (r = 0.87), CEC : clay ratio (r = 0.84), and all exchangeable cations (Table 4). Weak negative correlations were observed for SI with OC (r = −0.31) and Ca : Mg (r = −0.26). These observations support the findings of Fajardo et al. (2016) that SI was positively correlated with pH, clay content, and exchangeable Na+ and Mg+2, and negatively correlated with Ca : Mg. The strongest correlation with SI in this study was observed with exchangeable Mg+2 (r = 0.90). This is in contrast to a recent study that demonstrated exchangeable Mg+2 played a negligible role in flocculation of soil particles and aggregate stability (Zhu et al., 2019). It is believed that the observed correlation in our study is due to the dependence of exchangeable Mg+2 on clay content, CEC, and shrink–swell minerals, such as smectite, rather than a direct causal effect. Clay content was a strong indicator of SI potential. Only one sample with clay content <25 % had an observed SI greater than 1; in contrast only three samples with clay content ≥25 % had an observed SI less than 1. Clay soils are often more susceptible to slaking as they have both a higher concentration of shrink–swell minerals and also a greater concentration of smaller pores that may trap and compress air bubbles (Emerson, 1964). The majority of clay soils had a high CEC : clay ratio, indicating that the dominant phyllosilicate in many of the clay soils studied is smectite. No correlation was observed between SI and ESP in our study. Churchman et al. (1993) reviewed causes of swelling and dispersion in Australian soils and identified that exchangeable Na+ increased swelling, but only for high ESP values. Most of the samples in our study had low ESP values, which explains the lack of correlation with SI values. The low ESP values resulted in minimal dispersion observed in these samples, which was beneficial for this study as the SLAKES application currently cannot distinguish between slaking and dispersion (Fajardo et al., 2016).

Bold font indicates significance at p<0.05. SI: slaking index; OC: organic carbon; pH: pH (1:5 H2O); EC: electrical conductivity (1:5 H2O); CEC: cation exchange capacity; ESP: exchangeable sodium percentage; Ca : Mg: ratio of exchangeable Ca+2 to Mg+2; CEC : clay: ratio of organic-matter-corrected CEC to clay content.
3.1.2

 Slaking index and land use

Land use at sampling sites was categorised into four classes: forest, predominately remnant vegetation cover on sand hills; pasture, encompassing not only improved and unimproved pastures but also stock routes and other areas of perennial grass cover; dryland cropping; and irrigated cropping. Clear differences in SI values were observed under these different land uses, which were accentuated after separating based on clay content (Fig. 2). For samples with clay content ≥25 %, irrigated cropping had the highest SI values, followed by dryland cropping (which showed a large range of SI values) and then pasture. No samples with clay content ≥25 % were observed under forest cover, nor soils with clay content <25 % under irrigated cropping. These findings are supported by the few existing studies investigating SI values of aggregates under cultivated sites compared to paired sites under natural vegetation (Fajardo et al., 2016; Flynn et al., 2020). Decreased aggregate stability of soils under cropping compared to pasture or natural vegetation has also been observed by other indicators of aggregate stability, such as mean weight diameter and water-stable aggregates (Saygın et al., 2012; Ye et al., 2018). The marked differences in soil aggregate stability between land uses may be attributable to the impact of cultivation on the soil – both the direct destruction of aggregates through cultivation and associated increase in soil respiration and loss of OC. The natural disposition of these soils to slake is evident with an average SI of 2.8 observed for soils with ≥25 % clay content under perennial ground cover in the pasture land use. This natural disposition had been significantly exacerbated by cultivation, with an average SI value of 4.8 observed for sites under dryland cropping and 5.0 for sites under irrigation. The difference in mean SI value between irrigated and pasture land uses for clay soils was not found to be significant at the 95 % confidence level (p=0.07), but given the large difference in means this is assumed to be due to the small number of observations for the irrigated clay soils (n=5). The higher level of slaking under irrigation may be due to the fact that irrigated cropping represents a further level of cultivation intensification compared to dryland sites, and sampled irrigated sites also only occurred on soils with clay content >50 %. For the sites with clay content <25 % SI values were predominately <1. Differences between land use were not significant for these low-clay-content soils, although increases in mean values were observed from forest to pasture and then dryland agriculture. A wide range of SI values was observed for samples with ≥25 % clay content, warranting further investigation.
3.1.3

 Effect of organic carbon on slaking index

Organic C has been shown to increase soil aggregation and decrease susceptibility to slaking (Six et al., 2000). Chenu et al. (2000) found OC to be a good predictor of soil aggregate stability (R2 = 0.72) when investigating the effects of tillage management on humic loamy soils in south-west France. The diverse range of soils used in this study is assumed to have confounded this relationship as only a weak negative correlation (r = −0.31) between SI and OC was observed, while much stronger correlations were observed for other soil properties, such as clay content or CEC : clay ratio (Table 4). To investigate these correlations further, the relationship between clay content, CEC : clay ratio, and SI was visualised (Fig. 3). CEC : clay ratio was identified as an important parameter as it is an indicator of clay mineral type which affects slaking through its contribution to the shrink–swell characteristics of a soil. A correlation between clay content and CEC : clay ratio was observed (Table 4). This relationship was related to landscape position in the study area, as high-clay-content soils found in floodplain areas also contained a higher proportion of shrink–swell clay minerals, such as smectite. Meanwhile, topsoil samples from the hills and slopes had lower clay content and also a lower CEC : clay ratio, indicating the dominance of low-CEC phyllosilicates, such as kaolinite or illite. As identified previously, samples with clay content <25 % showed minimal slaking. For samples with a clay content ≥25 %, CEC : clay ratio was an important predictor of slaking. For example, soils with a clay content ∼ 40 % showed low-to-moderate slaking for CEC : clay ratio <0.5 and moderate-to-extreme levels of slaking for CEC : clay ratio >0.5 (Fig. 3). Clear threshold values were observed, with extreme slaking values only occurring for soils clay content ≥25 % and CEC : clay ratio >0.5. This observation was used to allocate samples into two classes: samples with clay content ≥25 % and CEC : clay ratio >0.5, and all remaining samples. Relationships between measured soil properties and observed SI values were modelled independently for each class as different critical values were expected to control behaviour of different soil classes (Loveland and Webb, 2003).

Soil organic carbon was the only significant predictor of SI for soils with clay content ≥25 % and CEC : clay ratio >0.5. The relationship between SI and OC fit a segmented, exponential decay function (Fig. 4). This equation was developed by optimising a four-parameter non-linear regression model to minimise residual sum of squares using the nls function from the nlstools R package (Baty et al., 2015). The model contained a constant value that characterised SI behaviour under low OC levels, a threshold value above which the relationship was characterised by exponential decay, and two parameters that characterised exponential decay behaviour at high OC levels. A threshold value of 1.1 % OC was identified. The average observed SI value for samples below this threshold was 5.01. Extreme SI values were uniquely observed for samples with OC content under this threshold value. As the constant value indicates, no relationship between OC and SI was identified for these samples, nor could a relationship be developed between SI and other measured soil properties. As such the factors responsible for the large range in observed SI values for these soils remain unidentified. To identify causal factors, future research should investigate potential relationships between SI and OC fractions, OC type, microbial activity, or crop species that have been previously identified as influencing aggregate stability (Six et al., 1998; Morel et al., 1991; Blankinship et al., 2016). The 1.1 % threshold value also effectively separated observed differences in OC content between pasture and cropping land use activities. Interestingly, pasture sites with ∼ 1.0 % OC had lower observed SI values than corresponding dryland agriculture sites, indicating that direct effects of cultivation, extended fallow, or monoculture production may influence observed SI values, although the number of samples is too small for statistical analysis. Similar critical OC content values ranging from 1.1 to 2 % have been identified when considering a soil's ability to provide nutrients for crop growth or support microbial diversity (Aune and Lal, 1997; Zvomuya et al., 2008; Yan et al., 2000). For this study the 1.1 % OC value should not be interpreted as a target value for farm managers to achieve, but rather it describes an absolute minimum threshold below which slaking is unpredictable and can result in extreme values. To abate potentially detrimental effects of slaking, farm managers should aim to increase OC levels above this minimum threshold. The exponential decay component of the equation provided a weak fit to the available data (R2 = 0.27). The function suggests that slaking can be reduced, but not completely eliminated, by increasing OC content for the range of OC contents observed in this study. The constant parameter of 2.76 in the exponential decay function suggests a minimum obtainable SI value for these soils; however this model was based on few observations and limited samples of >2 % OC. Future investigation should prioritise identification of sites with higher OC content to better characterise this relationship.

The relationship between SI and OC for the soils that did not meet the criteria of ≥25 % clay content and CEC : clay ratio >0.5 was modelled separately using multiple linear regression. For these soils, SI was explained with the following equation: SI = −0.22 − 0.19 ×OC + 0.09 ×clay (R2=0.77, RMSE =  0.7, p = 0.000). This regression equation indicates that, while OC content still had a significant effect on observed SI values, the magnitude of the effect is lower for these soils. For example, soils with clay content ≥25 % and CEC : clay ratio >0.5 are expected to see a reduction in SI of 1.59 units if OC is increased from 0.7 to 1.7 %; meanwhile if OC is increased from 0.7 to 1.7 % in other soils, a decrease in SI of only 0.19 is expected to occur. These two equations were used to model the effect on SI of simulated 0.5 and 1.0 % increases in OC at the sample sites, which were then mapped across the study area. The results of these analyses are shown in Sect. 3.2.4.
Topsoil SI values were obtained through the use of the SLAKES smartphone application to assess aggregate stability in a mixed agricultural landscape. Land use had a clear impact on SI values, with sites under irrigated and dryland cropping showing higher SI values than those under pasture and forested areas. Clay content, CEC : clay ratio, and organic carbon content had a considerable impact on SI values of soil samples. Samples with low OC and high clay content combined with high CEC : clay ratio were the most prone to slaking. An OC threshold of 1.1 % was observed, below which slaking behaviour was not correlated with any of the measured soil properties and the most extreme SI values were observed. A regression-kriging approach utilising a Cubist model and diverse spatial covariates proved to be successful in spatially modelling SI values. The model had high predictive power, with an LCCC of 0.85 and RMSE of 1.1, when using a LOOCV approach on the training dataset (n = 108). The results were also of high quality when assessed using an independent test set (n = 50), with an LCCC of 0.82 and RMSE of 1.1. The decrease in SI expected from a 0.5 and 1.0 % increase in OC content was also simulated and mapped across the study area. The results of these simulations suggested that considerable improvements in SI and soil aggregate stability could be achieved if practices that promote the sequestration of OC were implemented, particularly in cultivated areas. Overall, this study demonstrated that novel approaches to cheaply and rapidly assess the aggregate stability of soil samples could be combined with DSM approaches to create accurate, fine-resolution maps of aggregate stability. These maps have the potential to guide management decisions, whether that be to determine land use and management, such as to minimise cultivation in areas that are prone to slaking, or to increase OC in areas of extreme slaking through the use of minimum tillage or cover cropping.
The data are not publicly available as a large proportion of the training data was acquired on privately owned land and permission has not be obtained to release the data.
EJJ, PF, and ABM designed the experiment and the data analysis method. EJJ, PF, RW, and VP performed the field sampling campaigns. RW and MF collected the slaking index data. EJJ and PF analysed the data. EJ prepared the paper with contribution from all co-authors.
The authors declare that they have no conflict of interest.
The authors would like to thank Blandine Lemercier and Sébastien Salvador-Blanes for their review and valuable suggestions on how to improve the manuscript. The authors would also like to thank Alessandra Calegari, Vita Ayu Kusuma Dewi, Zhiwei (Vera) Wang, Bradley Ginns, Hannah Lowe, and Victoria Pauly for their assistance in gathering and analysing soil samples.
This research was supported by the Grains Research and Development Corporation (grant no. US00087) and the Australian National Landcare Program (grant ID GA25329): DigiFarm – A digitally enabled durable agroecosystem.
This paper was edited by Olivier Evrard and reviewed by Blandine Lemercier and Sebastien Salvador-Blanes.
ABARES: The Australian land use and management classification version 8, Australian Bureau of Agricultural and Resource Economics and Sciences, CC BY 3.0, Canberra, available at: https://www.agriculture.gov.au/abares/aclump/land-use/catchment-scale-land-use-of-australia-update-december-2018 (last access: 11 November 2020), 2018. a
Annabi, M., Raclot, D., Bahri, H., Bailly, J. S., Gomez, C., and Le Bissonnais, Y.: Spatial variability of soil aggregate stability at the scale of an agricultural region in Tunisia, Catena, 153, 157–167, https://doi.org/10.1016/j.catena.2017.02.010, 2017. a, b
ANZLIC: ELVIS – Elevation and Depth – Foundation Spatial Data, available at: https://elevation.fsdf.org.au/, last access: 20 September 2019. a
Aune, J. and Lal, R.: Agricultural productivity in the tropics and critical limits of properties of Oxisols, Ultisols, and Alfisols, Trop. Agr., 74, 96–103, 1997. a
Barzegar, A. R., Oades, J. M., and Rengasamy, P.: Soil structure degradation and mellowing of compacted soils by saline–sodic solutions, Soil Sci. Soc. Am. J., 60, 583–588, 1996. a
Baty, F., Ritz, C., Charles, S., Brutsche, M., Flandrois, J.-P., and Delignette-Muller, M.-L.: A Toolbox for Nonlinear Regression in R: The Package nlstools, J. Stat. Softw., 66, 1–21, https://doi.org/10.18637/jss.v066.i05, 2015. a, b
Blankinship, J. C., Fonte, S. J., Six, J., and Schimel, J. P.: Plant versus microbial controls on soil aggregate stability in a seasonally dry ecosystem, Geoderma, 272, 39–50, 2016. a
Bureau of Meteorology: Monthly climate statistics – Narrabri West Post Office (053030), available at: http://www.bom.gov.au/climate/averages/tables/cw_053030.shtml, last access: 12 February 2020. a
Chen, Y., Lu, D., Moran, E., Batistella, M., Dutra, L. V., Sanches, I. D., da Silva, R. F. B., Huang, J., Luiz, A. J. B., and de Oliveira, M. A. F.: Mapping croplands, cropping patterns, and crop types using MODIS time-series data, Int. J. Appl. Earth Obs., 69, 133–147, 2018. a
Chenu, C., Le Bissonnais, Y., and Arrouays, D.: Organic matter influence on clay wettability and soil aggregate stability, Soil Sci. Soc. Am. J., 64, 1479–1486, 2000. a, b
Churchman, J., Skjemstad, J., and Oades, J.: Influence of clay minerals and organic matter on effects of sodicity on soils, Aust. J. Soil Res., 31, 779–700, https://doi.org/10.1071/SR9930779, 1993. a
Collis-George, N. and Lal, R.: Infiltration and structural changes as influenced by initial moisture content, Aust. J. Soil Res., 9, 107–116, 1971. a
CSIRO: Data Access Portal, available at: https://data.csiro.au/collections/, last access: 20 September 2019. a
Emerson, W.: The slaking of soil crumbs as influenced by clay mineral composition, Aust. J. Soil Res., 2, 211–217, https://doi.org/10.1071/SR9640211, 1964. a, b, c
Emerson, W.: A classification of soil aggregates based on their coherence in water, Aust. J. Soil Res., 5, 47–57, https://doi.org/10.1071/SR9670047, 1967. a
Emerson, W.: Structural decline of soils, assessment and prevention, Aust. J. Soil Res., 29, 905–921, https://doi.org/102.100.100/253063, 1991. a
Fajardo, M. and McBratney, A.: Slakes: A soil aggregate stability smart-phone app [Mobile application software], version 2.1, available at: https://play.google.com/store/apps/details?id=slaker.sydneyuni.au.com.slaker&hl=en_AU, last access: 19 November 2019. a, b
Fajardo, M., McBratney, A. B., Field, D. J., and Minasny, B.: Soil slaking assessment using image recognition, Soil Till. Res., 163, 119–129, https://doi.org/10.1016/j.still.2016.05.018, 2016. a, b, c, d, e, f, g
Field, D. J., McKenzie, D. C., and Koppi, A. J.: Development of an improved Vertisol stability test for SOILpak, Soil Res., 35, 843–852, https://doi.org/10.1071/S96118, 1997. a
Filippi, P., Jones, E. J., Ginns, B. J., Whelan, B. M., Roth, G. W., and Bishop, T. F.: Mapping the Depth-to-Soil pH Constraint, and the Relationship with Cotton and Grain Yield at the Within-Field Scale, Agronomy, 9, 251, https://doi.org/10.3390/agronomy9050251, 2019. a
Filippi, P., Jones, E. J., and Bishop, T. F.: Catchment-scale 3D mapping of depth to soil sodicity constraints through combining public and on-farm soil databases – A potential tool for on-farm management, Geoderma, 374, 114396, https://doi.org/10.1016/j.geoderma.2020.114396, 2020. a
Flynn, K. D., Bagnall, D. K., and Morgan, C. L.: Evaluation of SLAKES, a smartphone application for quantifying aggregate stability, in high-clay soils, Soil Sci. Soc. Am. J., 84, 345–353, https://doi.org/10.1002/saj2.20012, 2020. a, b
Gallant, J. C. and Dowling, T. I.: A multiresolution index of valley bottom flatness for mapping depositional areas, Water Res. Res., 39, 1347, https://doi.org/10.1029/2002WR001426, 2003. a
Gee, G. and Bauder, J.: Particle size analysis, in: Methods of soil analysis. Part 1: Physical and mineralogical methods, edited by: Klute, A., Soil Science Society of America and American Society of Agronomy, Madison, WI, USA, 383–411, 1986. a
Geoscience Australia: Geophysical Archive Data Delivery System, available at: https://www.ga.gov.au/gadds/, last access: 20 September 2019. a
Gorelick, N., Hancher, M., Dixon, M., Ilyushchenko, S., Thau, D., and Moore, R.: Google Earth Engine: Planetary-scale geospatial analysis for everyone, Remote Sens. Environ., 202, 18–27, https://doi.org/10.1016/j.rse.2017.06.031, 2017. a
Grant, C. and Blackmore, A.: Self mulching behavior in clay soils-Its definition and measurement, Soil Res., 29, 155–173, 1991. a
Gray, J. M., Bishop, T. F., and Wilford, J. R.: Lithology and soil relationships for soil modelling and mapping, Catena, 147, 429–440, 2016. a, b
IUSS Working Group WRB: World Reference Base for Soil Resources 2014, International Soil Classification System for Naming Soils and Creating Legends for Soil Maps., World Soil Resources Reports No. 106, FAO, Rome, 2014. a
Kuhn, M. and Quinlan, R.: Cubist: Rule- And Instance-Based Regression Modeling, r package version 0.2.3, available at: https://CRAN.R-project.org/package=Cubist, last access: 3 February 2020. a
Loveday, J. and Pyle, J.: The Emerson dispersion test and its relationship to hydraulic conductivity, Tech. rep., CSIRO, Australia Division of Soils, 1973. a
Loveland, P. and Webb, J.: Is there a critical level of organic matter in the agricultural soils of temperate regions: a review, Soil Till. Res., 70, 1–18, 2003. a
Minty, B., Franklin, R., Milligan, P., Richardson, M., and Wilford, J.: The radiometric map of Australia, Explor. Geophys., 40, 325–333, 2009. a
Morel, J. L., Habib, L., Plantureux, S., and Guckert, A.: Influence of maize root mucilage on soil aggregate stability, Plant Soil, 136, 111–119, 1991. a
Mullins, C. E., MacLeod, D. A., Northcote, K. H., Tisdall, J. M., and Young, I. M.: Hardsetting Soils: Behavior, Occurrence, and Management, in: Advances in Soil Science: Soil Degradation Volume 11, edited by Lal, R. and Stewart, B. A., Springer New York, New York, NY, USA, https://doi.org/10.1007/978-1-4612-3322-0_2, 37–108, 1990. a, b, c
Oades, J. and Waters, A.: Aggregate hierarchy in soils, Austr. J. Soil Res., 29, 815–828, https://doi.org/10.1071/SR9910815, 1991. a
Odeh, I. O. and Onus, A.: Spatial analysis of soil salinity and soil structural stability in a semiarid region of New South Wales, Australia, Environ. Manage., 42, 265, https://doi.org/10.1007/s00267-008-9100-z, 2008. a
Peel, M. C., Finlayson, B. L., and McMahon, T. A.: Updated world map of the Köppen-Geiger climate classification, Hydrol. Earth Syst. Sci., 11, 1633–1644, https://doi.org/10.5194/hess-11-1633-2007, 2007. a
R Core Team: R: A Language and Environment for Statistical Computing, R Foundation for Statistical Computing, Vienna, Austria, available at: https://www.R-project.org/, last access: 1 September 2019. a
Rayment, G. E. and Lyons, D. J.: Soil chemical methods: Australasia, Vol. 3, CSIRO publishing, Collingwood, Victoria, Australia, 2011. a
Rengasamy, P., Greene, R., and Ford, G.: The role of clay fraction in the particle arrangement and stability of soil aggregates – A review, Clay Res., 3, 53–67, 1984.  a
Saygın, S. D., Cornelis, W. M., Erpul, G., and Gabriels, D.: Comparison of different aggregate stability approaches for loamy sand soils, Appl. Soil Ecol., 54, 1–6, 2012. a
Schindelbeck, R., Moebius-Clune, B., Moebius-Clune, D., Kurtz, K., and van Es, H.: Cornell University Comprehensive Assessment of Soil Health Laboratory Standard Operating Procedures, 20–22, 2016. a, b
Six, J., Elliott, E., Paustian, K., and Doran, J. W.: Aggregation and Soil Organic Matter Accumulation in Cultivated and Native Grassland Soils, Soil Sci. Soc. Am. J., 62, 1367–1377, https://doi.org/10.2136/sssaj1998.03615995006200050032x, 1998. a
Six, J., Paustian, K., Elliott, E. T., and Combrink, C.: Soil structure and organic matter I. Distribution of aggregate-size classes and aggregate-associated carbon, Soil Sci. Soc. Am. J., 64, 681–689, 2000. a
Walkley, A. and Black, I. A.: An examination of the Degtjareff method for determining soil organic matter, and a proposed modification of the chromic acid titration method, Soil Sci., 37, 29–38, 1934. a
Yan, F., McBratney, A., and Copeland, L.: Functional substrate biodiversity of cultivated and uncultivated A horizons of vertisols in NW New South Wales, Geoderma, 96, 321–343, 2000. a
Ye, L., Tan, W., Fang, L., Ji, L., and Deng, H.: Spatial analysis of soil aggregate stability in a small catchment of the Loess Plateau, China: I. Spatial variability, Soil Till. Res., 179, 71–81, https://doi.org/10.1016/j.still.2018.01.012, 2018. a, b
Yoder, R. E.: A direct method of aggregate analysis of soils and a study of the physical nature of erosion losses, Soil Sci. Soc. Am. J., 28, 337–351, https://doi.org/10.2134/agronj1936.00021962002800050001x, 1936. a, b
Zhu, Y., Ali, A., Dang, A., Wandel, A. P., and Bennett, J. M.: Re-examining the flocculating power of sodium, potassium, magnesium and calcium for a broad range of soils, Geoderma, 352, 422–428, https://doi.org/10.1016/j.geoderma.2019.05.041, 2019. a
Zvomuya, F., Janzen, H. H., Larney, F. J., and Olson, B. M.: A Long-Term Field Bioassay of Soil Quality Indicators in a Semiarid Environment, Soil Sci. Soc. Am. J., 72, 683–692, https://doi.org/10.2136/sssaj2007.0180, 2008. a