Articles | Volume 9, issue 2
https://doi.org/10.5194/soil-9-533-2023
© Author(s) 2023. This work is distributed under
the Creative Commons Attribution 4.0 License.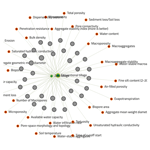 The soil knowledge library (KLIB) – a structured literature database on soil process research
In this technical note, we introduce a web-based application, the BonaRes Knowledge Library (KLIB, https://klibrary.bonares.de, last access: 26 July 2023), for the compilation and classification of scientific publications on soil processes according to the specific site conditions and experimental boundary conditions. The tool was developed based on the understanding that experimental findings in soil science are highly dependent on soil type, land use, and climate. The KLIB, therefore, goes beyond other available digital libraries by providing metadata on the site conditions and experimental settings for each publication. A number of visualization tools have been developed in the form of graphical networks to illustrate, for example, publications sharing the same type of scientific questions or soil properties that are affected by different types of drivers. This should help to explore the contents of the literature database more efficiently in order to support and facilitate the literature search efforts of the users. The KLIB is designed as a collaborative effort to encourage soil scientists to participate by entering their own studies and extending the existing database.
Received: 27 Apr 2023 – Discussion started: 15 May 2023 – Revised: 26 Jul 2023 – Accepted: 30 Aug 2023 – Published: 17 Oct 2023
Soil is a highly complex system where a multitude of physical, chemical, and biological processes interact to generate several essential soil functions such as fertility for plant growth, water storage and water purification, nutrient cycling, carbon storage, and habitats for biodiversity. Today, we are still far from a solid mechanistic understanding of all these interacting processes. However, as a fundamental principle of science, identifying characteristic patterns of observed phenomena is a highly valuable initial step towards an in-depth process-based understanding of how soil as a complex system functions.
One example is the repeated observation that rather old and stable organic carbon in soil is frequently of microbiological origin (Miltner et al., 2012). This led to the insight that stabilizing carbon in soil is not mainly a result of chemical recalcitrance as previously thought but rather the consequence of physical protection within the heterogeneous soil structure, as was already suspected by Schmidt et al. (2011).
Over the last 2 decades, scientific tools were developed with the intention of providing more solid grounds for the observations of empirical relations. One approach is the systematic review of the available literature, including a quantitative synthesis of research results. This approach, termed meta-analysis, was initially developed in medical research to synthesize data from multiple clinical trials (Koricheva et al., 2013). However, there are a number of critical issues that come along with meta-analysis – for example, the bias resulting from a deliberate selection of articles to synthesize and the publication bias reflecting the propensity for journals to publish studies with positive, hypothesis-affirming results (Haddaway et al., 2015). These sources of bias also apply to meta-analyses in soil science, with an additional aspect that is especially critical in this field. In the medical field, the object of interest, the human organism, operates in fundamentally the same way. In soil science, however, different soil types under different land uses and climates can be considered to be "organisms" that have quite different internal controls and process interactions. Also, the temporal and spatial scale of experiments can have a substantial impact on experimental results. Hence, the integration of studies carried out at different locations under different boundary conditions might lead to inconclusive, contrasting, or even misleading results.
This well-known problem in meta-analyses leads to "comparing apples and oranges". It might be one of the reasons why different studies on the same subject come up with contradictory findings. For example, the impact of reduced tillage on the carbon level of soils was found to have a positive or negative effect or no effect at all (Balesdent et al., 2000; Simpson et al., 2023). Earthworm activity may stimulate organic matter mineralization (Wachendorf et al., 2014), or it may enhance carbon stabilization (Guggenberger et al., 1996). In this case, the difference between the studies lies in the timescale considered. Earthworms foster microbial activity in their guts and within the fresh casts, leading to increased mineralization rates. By contrast, in the long run, the organic matter within the relatively dense casts is stabilized over time since the accessibility for microbes is reduced. As another example, Jarvis et al. (2013) demonstrated how the saturated hydraulic conductivity depends on site conditions, especially land use, but not very much on soil texture. As is obvious from these examples, studies that are included in a meta-analysis need to be analyzed separately through meta-regressions that account for different site characteristics and experimental boundary conditions.
Identifying characteristic patterns of observed phenomena is certainly an important initial step towards an in-depth process-based understanding of how soil as a complex system functions. It is also required for process-based, predictive modeling of how changing boundary conditions (e.g., in terms of land use or climate) will impact the multitude of soil functions. Such a model would be a major advance in soil science. Currently, we mostly rely on empirical relations while our understanding of the relevant processes and interactions providing causality for the observed correlations is still limited.
In today's digital databases of scientific literature, which are accessible through various search engines, it is not yet possible to stratify the literature search according to soil types, site characteristics, or experimental boundary conditions. In addition, the search for specific processes and process interactions is difficult. The basic idea of the BonaRes Knowledge Library (KLIB) presented in this article is to allow for an analysis of the included research publications which can be structured according to site conditions, the investigated processes, and the main results of the studies. It is mainly focused on soil process research, but methodological publications might also be included. For process-oriented publications, all the metadata need to be entered for each individual study, which is a considerable effort. For this reason, KLIB is intended to be a community effort, in which many interested scientists can contribute with the idea that the work is shared.
In the following, we introduce the KLIB as an open-access tool for a structured analysis of published work on soil processes. We present examples of how to use KLIB in the literature search and in screening for meta-analysis, and we discuss the potential of the KLIB for analyzing published findings in general and how it might be helpful to identify research gaps.
2
 The BonaRes Knowledge Library (KLIB)
With the KLIB, we offer a tool for structuring soil process research relying on relevant publications including metadata such as site characteristics and experimental boundary conditions. The KLIB can be used freely by anyone interested in soil science, and its value and usefulness will grow with an increasing number of active users and uploaded publications. At the moment, about 600 publications are part of the KLIB. This is sufficient to assess the functionality, but for many questions, the number of publications is still far too small to provide a good overview of the published knowledge. Therefore, all soil scientists are invited to contribute to and ultimately benefit from the KLIB. The visualization modes that make the most of the library are designed to be efficiently applied when the number of publications included in the KLIB grows substantially, which is actually the intended objective.
At the moment, the KLIB is designed for experimental work directed towards a better understanding of soil processes that depend on site characteristics and experimental boundary conditions. The development was motivated by the need for mechanistic soil models (Vogel et al., 2018), such as Expert-N (Engel and Priesack, 1993) or APSIM (Holzworth et al., 2014), that are designed to describe and predict changes in soil functionality based on a sound understanding of the underlying processes. However, these processes and their interactions can hardly be described based on first principles. Instead, their parameterization needs to rely on empirical findings documented in publications on soil process research. The KLIB should be a valuable tool for identifying processes and for coming up with ideas on how to represent these processes in systemic models. In fact, only a smaller proportion of publications within soil science are related to process research. A very substantial part deals with methodological developments. In the future, the KLIB will be further developed for such publications as well in order to also support the literature search for methodological aspects.
Of course, an open-access tool like KLIB raises the question of how to ensure the quality of the data entered by many different users from different fields of soil science. One quality assurance measure is that only registered users can upload publications including metadata. It is completely transparent who has uploaded which publication to the library, which should support the responsible use of the KLIB. The KLIB is maintained by the BonaRes Centre in terms of the quick removal of obvious errors. Further evolution will show whether there is a need for additional functionality to allow all users to mark suspected inconsistent entries as such.
A critical obstacle to uploading publications is the considerable effort required to enter the metadata for each publication, although the user interface supports this process very well, and there is an electronic "cookbook" available on the website. Many entries can be made very quickly via drop-down menus, taking into account different classification schemes and metrics with different physical units. As a side note, this effort is significantly reduced for well-written articles where the information can be found easily.
Despite all this, it seems somewhat anachronistic that, in times of rapid development of artificial intelligence, we are still entering such metadata via the computer keyboard. We are currently testing advanced text-mining tools, as done recently by Blanchy et al. (2023), to minimize the manual data entry. This can work quite well if the authors stick to existing classification systems and nomenclature. The practice has shown, however, that there is an enormous diversity in terminology and that it will take some development before self-learning systems can digest this diversity in such a way that the results meet the requirements of KLIB.
Today, there are a number of web-based tools available which are useful to explore published work in a given research field. Tools such as CONNECTED PAPERS (https://www.connectedpapers.com, last access: 8 October 2023) or Citation Gecko (https://citationgecko.azurewebsites.net/, last access: 8 October 2023) start from a number of seed publications to analyze which other publications have been published on the same subject and how the various publications cite each other. Other tools such as "paper-digest" (https://www.paper-digest.com, last access: 21 July 2023) analyze the contents of individual publications using methods of text mining to summarize their contents. The underlying concepts are developing fast at the moment, and the KLIB will certainly profit from this in terms of automatically extracting information on the spatial coordinates, the soil type, the land use, and other boundary conditions in the future. To the best of our knowledge, the KLIB is the only tool that can be used to relate scientific publications and their major findings directly to site conditions, which is of crucial importance for their interpretation, especially in soil science. Another unique feature of the KLIB is that it can be used by individual users for their own work, but the information they provide is also accessible to other users as well. In this way, we hope that the KLIB will develop into a community venture from which we can all benefit.
Conceptualization: HJV, BS, and UW. Data curation: HJV, BBC, SK, BL, ML, ER, BS, and MW. Technical implementation: LF and UW. Writing – original draft: HJV and BBC. Writing – review and editing: all authors.
The contact author has declared that none of the authors has any competing interests.
Publisher's note: Copernicus Publications remains neutral with regard to jurisdictional claims in published maps and institutional affiliations.
We would like to thank the many colleagues who gave us a lot of advice on the design of the user interface and functionality during the development of KLIB. This project is funded by the German Federal Ministry of Education and Research (BMBF) in the framework of the funding measure Soil as a Sustainable Resource for the Bioeconomy – BonaRes (project BonaRes (Module B): BonaRes Centre for Soil Research).
This research has been funded by the German Federal Ministry of Education and Research (BMBF) within the framework of the funding measure "Soil as a Sustainable Resource for the Bioeconomy – BonaRes", project "BonaRes (Module B): BonaRes Centre for Soil Research".

The article processing charges for this open-access publication were covered by the Helmholtz Centre for Environmental Research – UFZ.
This paper was edited by Ashish Malik and reviewed by two anonymous referees.
Angular: The web development framework for building the future, https://angular.io/ (last access: 16 March 2023), 2023. a
Balesdent, J., Chenu, C., and Balabane, M.: Relationship of soil organic matter dynamics to physical protection and tillage, Soil Till. Res., 53, 215–230, 2000. a
Betancur-Corredor, B., Lang, B., and Russell, D. J.: Organic nitrogen fertilization benefits selected soil fauna in global agroecosystems, Biol. Fertil. Soils, 59, 1–16, 2022a. a
Betancur-Corredor, B., Lang, B., and Russell, D. J.: Reducing tillage intensity benefits the soil micro-and mesofauna in a global meta-analysis, Eur. J. Soil Sci., 73, e13321, https://doi.org/10.1111/ejss.13321, 2022b. a
Blanchy, G., Albrecht, L., Koestel, J., and Garré, S.: Potential of natural language processing for metadata extraction from environmental scientific publications, SOIL, 9, 155–168, https://doi.org/10.5194/soil-9-155-2023, 2023. a
Bonares Knowledge library: KLIB, https://klibrary.bonares.de, last access: 26 July 2023. a
Cote, I. and Jennions, M.: The Procedure of Meta-analysis in a Nutshell, in: Handbook of meta-analysis in ecology and evolution, Princeton University Press: Princeton, New Jersey, 195–206, ISBN 0691137293, 2013. a
Engel, T. and Priesack, E.: Expert-N-A Building Block System of Nitrogen Models as Resource for Advice, Research, Water Management and Policy, in: Integrated Soil and Sediment Research: A Basis for Proper Protection: Selected Proceedings of the First European Conference on Integrated Research for Soil and Sediment Protection and Remediation (EUROSOL), Springer, 503–507, ISBN 978-94-010-4887-3, 1993. a
Guggenberger, G., Thomas, R. J., and Zech, W.: Soil organic matter within earthworm casts of an anecic-endogeic tropical pasture community, Colombia, Appl. Soil Ecol., 3, 263–274, 1996. a
Haddaway, N., Woodcock, P., Macura, B., and Collins, A.: Making literature reviews more reliable through application of lessons from systematic reviews, Conserv. Biol., 29, 1596–1605, 2015. a
Holzworth, D. P., Huth, N. I., deVoil, P. G., Zurcher, E. J., Herrmann, N. I., McLean, G., Chenu, K., van Oosterom, E. J., Snow, V., Murphy, C., Moore, A. D., Brown, H., Whish, J. P. M., Verrall, S., Fainges, J., Bell, L. W., Peake, A. S., Poulton, P. L., Hochman, Z., Thorburn, P. J., Gaydon, D. S., Dalgliesh, N. P., Rodriguez, D., Cox, H., Chapman, S., Doherty, A., Teixeira, E., Sharp, J., Cichota, R., Vogeler, I., Li, F. Y., Wang, E., Hammer, G. L., Robertson, M. J., Dimes, J. P., Whitbread, A. M., Hunt, J., van Rees, H., McClelland, T., Carberry, P. S., Hargreaves, J. N. G., MacLeod, N., McDonald, C., Harsdorf , J., Wedgwood, S., and Keating, B. A.: APSIM–evolution towards a new generation of agricultural systems simulation, Environ. Model. Softw., 62, 327–350, 2014. a
Jarvis, N., Koestel, J., Messing, I., Moeys, J., and Lindahl, A.: Influence of soil, land use and climatic factors on the hydraulic conductivity of soil, Hydrol. Earth Syst. Sci., 17, 5185–5195, https://doi.org/10.5194/hess-17-5185-2013, 2013. a
Koricheva, J., Gurevitch, J., and Mengersen, K.: Handbook of meta-analysis in ecology and evolution, Princeton University Press, ISBN 0691137293, 2013. a
Lang, B., Betancur-Corredor, B., and Russell, D. J.: Earthworms increase mineral soil nitrogen content–a meta-analysis, Soil Organisms, 95, 1–16, 2023. a
Mikolajewicz, N. and Komarova, S. V.: Meta-analytic methodology for basic research: a practical guide, Front. Physiol., 10, 203, 2019. a
Miltner, A., Bombach, P., Schmidt-Brücken, B., and Kästner, M.: SOM genesis: microbial biomass as a significant source, Biogeochemistry, 111, 41–55, 2012.  a
Page, M. J., McKenzie, J. E., Bossuyt, P. M., Boutron, I., Hoffmann, T. C., Mulrow, C. D., Shamseer, L., Tetzlaff, J. M., Akl, E. A., Brennan, S. E., Chou, R., Glanville, J., Grimshaw, J. M., Hróbjartsson, A., Lalu, M. M., Li, T., Loder, E. W., Mayo-Wilson, E., McDonald, S., McGuinness, L. A., Stewart, L. A., Thomas, J., Tricco, A. C., Welch, V. A., Whiting, P., and Moher, D.: The PRISMA 2020 statement: an updated guideline for reporting systematic reviews, Int. J. Surg., 88, 105906, https://doi.org/10.1136/bmj.n71, 2021. a
Schmidt, M. W., Torn, M. S., Abiven, S., Dittmar, T., Guggenberger, G., Janssens, I. A., Kleber, M., Kögel-Knabner, I., Lehmann, J., Manning, D. A., Nannipieri, P., Rasse, D. P., Weiner, S., and Trumbore, S. E.: Persistence of soil organic matter as an ecosystem property, Nature, 478, 49–56, 2011. a
Simpson, Z. P., Jordahl, J., Leptin, A., Miguez, F. E., Niemi, J., Schulte, L. A., Thompson, M. L., Villarino, S. H., and McDaniel, M. D.: No-tillage does not on average reduce soil carbon storage compared to conventional tillage. Comment on "Declines in soil carbon storage under no tillage can be alleviated in the long run" by Cai et al., Geoderma, 430, 116307, https://doi.org/10.1016/j.geoderma.2022.116307, 2023. a
Subirats-Coll, I., Kolshus, K., Turbati, A., Stellato, A., Mietzsch, E., Martini, D., and Zeng, M.: AGROVOC: The linked data concept hub for food and agriculture, Comput. Electron. Agricult., 196, 105965, https://doi.org/10.1016/j.compag.2020.105965, 2022. a
Vogel, H.-J., Bartke, S., Daedlow, K., Helming, K., Kögel-Knabner, I., Lang, B., Rabot, E., Russell, D., Stößel, B., Weller, U., Wiesmeier, M., and Wollschläger, U.: A systemic approach for modeling soil functions, SOIL, 4, 83–92, https://doi.org/10.5194/soil-4-83-2018, 2018. a
Vogel, H.-J., Betancur-Corredor, B., Franke, L., König, S., Lang, B., Lucas, M., Rabot, E., Stößel, B., Weller, U., Wiesmeier, M., and Wollschläger, U.: Code for the KLIB, GitLab [code], https://git.ufz.de/Bonares/knowledgelibrary, last access: 12 October 2023. a
Wachendorf, C., Potthoff, M., Ludwig, B., and Joergensen, R. G.: Effects of addition of maize litter and earthworms on C mineralization and aggregate formation in single and mixed soils differing in soil organic carbon and clay content, Pedobiologia, 57, 161–169, 2014. a